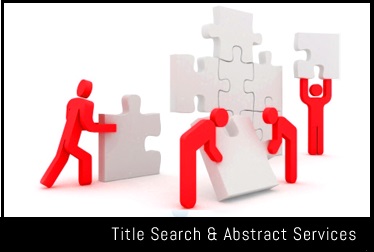 Title searches are a vital step in the home-buying/selling process. DocAbstract executes title search through multiple sources that inclues deeds, county land records, Federal and State level tax liens, divorce cases, brankruptcy court records and other financial judgements against owner attached to the property.
We offer:
Current Owner (Ownership & Encumbrance (O&E) Report) Search
Two Owner Search
30 Years Search
REO/Full Search
Deed and Mortgage Search
Bring Down/Date Down/Update Search
Document Retrieval
Probate Search
Document Review & Typing
Tailored Search / Special Requests
Delivery and Pricing
We reveal all the hidden claims or liens on the property the homeowners themselves may be unaware of, making title search essential for both buyers and sellers. We offer effective and time-bound Title Search services and competitive pricing.